Air Conditioning
Trust your air conditioning system service needs to Wood's this summer. During the summer months, when the demand for heating oil and burner services is low, Wood's Heating Service offers complete installation and service for a wide variety of air conditioning systems. Whether you have a central air conditioning system for your home or you prefer mini-split ductless cooling equipment, we service all makes and models. We provide this service for two basic reasons:
Your Comfort. It is an extension of our commitment to your Total Comfort. Keeping you warm and comfortable during the cold winter months and then leaving you stranded to deal with the blistering summer heat would simply be unprofessional. We are committed to your TOTAL COMFORT, and that includes both winter and summer.
Reliable Service Crews. Unlike other Oil Companies that lay-off their crews during the summer only to hire new ones in the fall, Wood's Heating Service is committed to keeping its quality technicians so if you have a problem, you are assured that it will be handled by well-trained and experienced professionals. We accomplish this by training our employees to both oil burners and central air conditioning units.
We are also trained and experienced in the installation and service of Whole-House Air Cleaners and Whole-House Humidifiers. Modern energy efficient homes are airtight and trap harmful airborne pollutants like dust, dust mites, pollen, mold, pet dander, carpet fibers, and second hand smoke, all of which contribute to the increasing rise in allergies. If you suffer from allergies at home or are simply interested in a healthier environment, talk to us about cleaning your air with a whole-house air cleaner.
So when we say that Wood's Heating Service is a complete full service comfort station, we mean it. We are committed to your Total Comfort.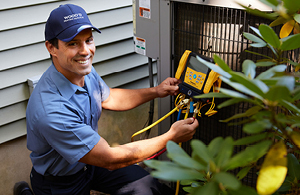 ---
What Our Customers Are Saying
"It was so good of you to drop in and check our air conditioner installation. You don't know how grateful I am for the almost immediate response. At 77 (an asthmatic), that consideration means so much to me! However, I am also writing this to commend the wonderful Woods men who took such incredible care of us as well as the installation.
It is rare today to be treated with such courtesy, kindness, care-taking professionalism. These men were the best. We have been so fortunate to always have good Wood's people come and take care of us, but these two exceptional, special men were extraordinary! I couldn't begin to extol sufficient praise about them.
Please make sure that their perfection performance is noted and placed in their records. Could you also give them a copy of this? My deepest appreciation for all that they are!"
Joan B., Riverside, RI