Servicing Customers in Rhode Island and Southeastern Massachusetts Since 1923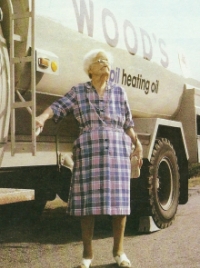 Started in 1923 and celebrating over 90 years in business, Wood's Heating Service, your local family-operated oil company, can look back on a fascinating history – one marked by dedication, hard work and the perseverance – to get through hard times. Through it all, our focus has been taking good care of our customers, no matter how challenging the times. We now serve all of Rhode Island and Southeastern Massachusetts for their heating and cooling needs, backed by none other than Star Gas Partners, L.P.
It all started back in 1923, when Etta Steere Wood and her husband, Seth Wood, opened a gas station on the corner of Warren and Pawtucket Avenues in East Providence. Etta had graduated from Bryant College in 1915, back in the days when the few women who pursued higher education were considered eccentric. It was Etta who convinced her husband that they should operate their own business. Etta and Seth worked long hours to keep the business afloat, particularly during the Great Depression. Pitching in to help were the couple's children, Edna and Seth.
Seth continued in the family business after serving in the United States Air Force during World War II. By then, the business had begun delivering coal and heating oil. He started the commitment of 24-hour service, because he was always on call in case of customer needed help with a heating problem. Other additions came on the "home front" for Seth and his wife, Frances; seven children were born and raised in those postwar baby boom years.
Etta's granddaughter Valerie and her husband, Carl Benker, took over the business in 1978. Valerie's sister Wendy also joined the business around this time. The third generation expanded the company's services to include air conditioning. Over the years the business grew and in 1983 moved to larger headquarters on Warren Avenue. In 2005, they moved again so they would have the resources to accommodate the needs of our many customers.
Today, Wendy Wood holds the reigns of leadership. She made a major contribution to the business in the late 1970s by bringing it into the computer age. Although Wendy recognized the advantages of storing and organizing data on a computer, Grandma Etta (who was in her 80s by then) was concerned about energy conservation. Convinced that the computer was using too much electricity, Etta would unplug it, not understanding the importance of using the "save" key first. It would take days to figure out how to recover the data.
We want to thank our customers for their loyalty and trust over the years. It's an honor for our family to take care of yours. We plan to keep on doing it for many more years. Grandma Etta wouldn't have it any other way.
---
What Our Customers Are Saying
"Since my husband and I are both active, the last thing I want to worry about is my heat. I appreciate not having to check my tank constantly or worry about who is coming into my house. And anytime I've had a problem, it's been taken care of quickly, without costing me an arm and a leg. If that's what you mean by full service, it's worth every penny."
Martha Shapiro