Is it time to repair or replace your AC system? Don't decide before reading this guide.
Your AC system is one of the most invaluable items in your home. But, the cost of upgrading to a new one can be costly. However, you can use this guide to help you make the most informed decision about whether it's time to get a new AC system or have your current one repaired.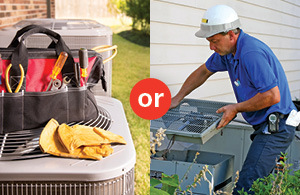 If properly maintained, including an annual tune-up, your AC system will probably have a longer lifespan. However, while proper maintenance may help delay replacing your AC system for a few more years, no amount of maintenance will make your equipment more efficient than it was when you bought it.
Most AC systems have a lifespan of about 10-15 years but anything over 10 is a bonus. Once your central AC system has been working for 10 years, it's often more sensible to have it replaced rather than having to deal with potentially substantial repair costs.
Since AC technology has advanced over the past decade, a newer system will run on more eco-friendly refrigerant and uses more energy-efficient components that
will help you save more on annual energy costs.
If your central AC system is not 10 years old yet and needs repairs that cost 50% or more than the cost to replace your AC, it's probably smart to make that upgrade.
No doubt, the cost of installing a new central AC system is one of the highest for anything to do with your home. But keep in mind, the large price tag now will help you in the longer-term. The latest AC systems are more energy-efficient, which will help you save on energy costs for years to come.
If you do need to get a new AC system, remember that you may also be able to avail of rebates or incentives, from installers, manufacturers, or government efficiency programs, that can help offset that scary initial price to upgrade.
A new AC system will also raise the value of your home.
Your local Wood's Heating team of AC experts are a phone call away to help answer any of your questions about repairing or replacing your AC system. Contact us today to learn more about AC repairs, what new AC system may be best for you, special offers, incentives and more!